Fireworks in a Jar
This entry was posted on October 31, 2018 by pattesons.
Why not have a go at making your own Fireworks tonight. Taking only a short time to make, it's a must do with the kids this Bonfire night!
If you have a little one who is fascinated with colours and fireworks, this simple experiment is for you. You most likely have everything you already need in your cupboard for these fireworks in a jar:  oil, water, and food colouring!
INGREDIENTS
DIRECTIONS
1.  Fill your jar 3/4 of the way full with warm water.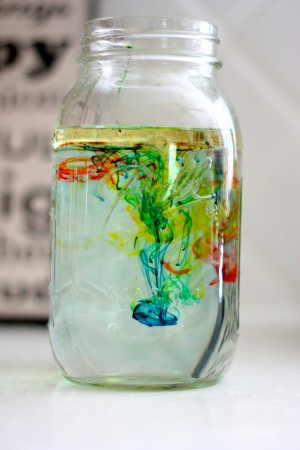 2.  In a separate bowl, mix a 3-4 tablespoons of oil and several drops of different colours of food colouring (use 4 drops of each colour:  red, yellow, blue, and green).
3.   Use a fork to gently mix the oil and food colouring together.
4.  Gently pour the oil mixture into the jar.
5.  Watch what happens—the food colouring will slowly sink out of the oil and into the water.  When this happens, it will expand and begin to mix with the other colours.
Idea taken from Jenae 'firework in a jar'
Images taken from Fireworks In a Jar - DIY Science Project For Kids. (YouTube)
Till Next Time.